On
16 Sep, 2011
By
nora
0 Comments
"Bodyscapes_corpoPhonolux" is a multidimensional interactive installation connecting synaesthetically the visual and spatial sense with hearing.
The basic idea of this project is the translation of light into sound – to transform what we see simutaneously in an acoustic soundscape. The performer becomes "sensor" and interactive element at the same time. Along the dancer's body are 8 lightsensors installed, measuring steadily the various intensities and colours of light on selected points along the body surface (joints, head, etc…).
The dancer is passing through different light situations. Sensors are influenced by way and quality of movement in space, plasticity of the body and different lighting and projection ambiances by the surrounding structure. The symbiosis of movement and different lighting situations are the two equal "masters" of the composition. As if someone is playing the piano, the dancer is playing the "space" with his body like an instrument – like an orgue of movement, with each sensor equally tuned. Finally the performance on stage becomes a 3dimensional improvisation between the lighting design and the dancer. Each gesture can be heard. One major factor is the spatial distribution of loudspeakers in a 360° area around the spectator. Each sensor is directly linked to one loudspeaker, so the acoustic output of each single sensor can be directly assigned within space for the spectator. Therefore the soundscape becomes a direct acoustic illustration of the body's surface in space.
Idea/Choreography/Performance: Veronika Mayerböck Sound/Composition: Noid IT/Multimedia:Simon Laburda Photocredits: Konstanze Mayerböck, Monika Perner
German
Untertitel:
Multidimensional interactive sensor installation.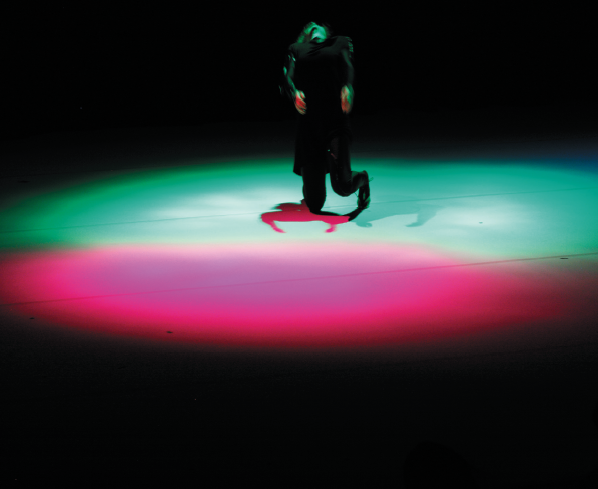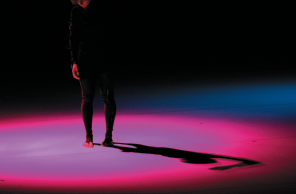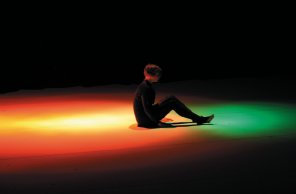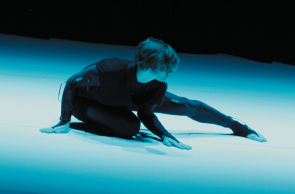 Technologie & Materialien: